Out now!
Moving Furniture Records / MFR 061 / Vinyl+Download / 2018
A1. Beam Finder
A2. The Sound of Two Hands
B3. Flattened Space
B4. Table of Hours
B5. The Limits of Function
In the fall 2017 I did a short residency at The Willem Twee Electronic Music Studio in Den Bosch, NL. This LP is the document of improvised sessions using modular synthesizers and tone generators, test & measurement instruments.
Edited and mixed at Odd Phasing and Echoes Amsterdam, NL.
Mastered by Jos Smolders
Published by Touch Fairwood Music
Artwork by Zeno van den Broek
Special thanks to Hans Kulk, Rikkert Brok and Armeno Alberts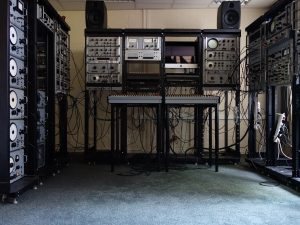 Reviews:
Swedish (but now Amsterdam-based) sound artist BJ Nilsen may be primarily associated with his albums using impeccably recorded field-recordings, but his albums were always more than just 'archival sounds': by careful re-arranging and subtle manipulation he investigates 'the sound of nature and its effect on humans.'
For Focus Intensity Power, however, the main sound sources are not exactly 'natural' but strictly electronic. Maybe the difference is not that great after all: electronic sources, hums, buzzes, clicks and radiation are an unavoidable part of our aural daily environment.
Nilsen recorded the album during a short residency at the Willem Twee Electronic Music Studio in Den Bosch, where he must have felt like a child in a candy store among all the anachronistic analog sound devices and vintage synthesizers (such as the legendary ARP 2500 modular synth pictured here). As the liner notes say: 'he exchanged his wax rain coat for the white laboratory mantle.'
Focus Intensity Power reflects his improvised sessions using modular synths, tone generators and test and measure instruments collected in this studio. The album is filled with  a 'red thread of analog pulse, droning waves and subtle and surprising noise interventions'.
According to Nilsen there is no underlying concept to the record, but for the listener it's not very hard to find one. This is the sound of machines talking to us in a strange language, a language we can hear but barely understand. It is a sound to get lost in completely – if it weren't for the fact that Nilsen accentuates the machines dependency by suddenly ending a track, cutting it off as if he flips a switch.
If you are remotely interested in the nature of electronic sound, in the very soul of electronic devices, this is an album to investigate. From Ambient Blog